The Must-see Abstract Art Exhibitions of the Year: An International Roundup for Art Lovers

Abstract art has been around for more than a century, but it remains one of the most intriguing forms of art today. A variety of movements–color field, suprematism, abstract expressionism and more–have emerged since its foundation. The mystery and unconventionality that surrounds abstraction offers a unique space for viewers' questions and interpretations, which is likely why abstract art continues to captivate audiences around the world. The art world has been buzzing with anticipation for upcoming abstract art exhibitions that promise to be nothing short of fascinating. If you want to discover the best of abstraction, prepare your itinerary, as there are several must-see shows that are taking place this year.
Sayed Haider Raza at Centre Pompidou (Paris, February 15 - May 15)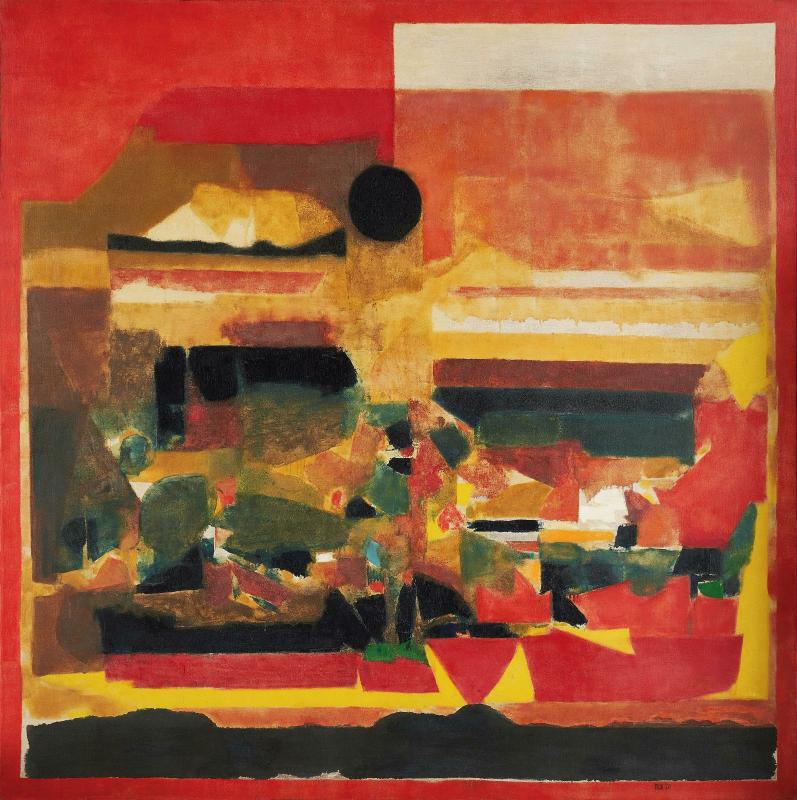 © The Raza Foundation


The Centre Pompidou is presenting the first ever exhibition in France devoted to the Indian painter Sayed Haider Raza. Born in India, Raza studied art in Mumbai and then later moved to Paris, where he was greatly influenced by the works of the European masters. He soon gained worldwide recognition for his abstract and symbolic paintings. His art was a reflection of his deep spiritual beliefs and his connection to nature, often incorporating elements of Indian mythology and philosophy. The artist was also a founding member of the Bombay Progressive Artists' Group, which played a significant role in shaping Indian modern art. This exhibition will feature a wide range of Raza's works, including his iconic geometric abstractions, landscapes, and figurative paintings. Through a considerate curation of his oeuvre, visitors will have the opportunity to engage with Raza's unique artistic vision–which combines the spiritual and the aesthetic–and explore his contributions and legacy as one of India's most celebrated artists.
Action, Gesture, Paint: Women Artists and Global Abstraction 1940-70 at Whitechapel Gallery (London, February 9 - May 7)


© Damian Griffiths


This collective exhibition held at the Whitechapel Gallery showcases the work of women artists who played a pivotal role in the development of abstract art from the 1940s to the 1970s. It is a testament to the diverse and innovative practices of these artists from different parts of the world, spanning Europe, the Americas, the Middle East, and Asia. These artists explored the possibilities of abstraction, experimenting with different techniques and materials to create striking and powerful compositions. The show highlights the contributions of women artists to the global art scene during a period when women were often overlooked and excluded. With over 100 works on display–from artists including Helen Frankenthaler, Alma Thomas, Joan Mitchell, and Bertina Lopes–ranging from paintings and sculptures to textiles, this exhibition offers a unique opportunity to discover the innovative approaches of pioneering artists and to appreciate the richness and complexity of their visual practices. 
Yayoi Kusama: 1945 to Now at M+ (Hong Kong, November 12 2022 - May 14 2023)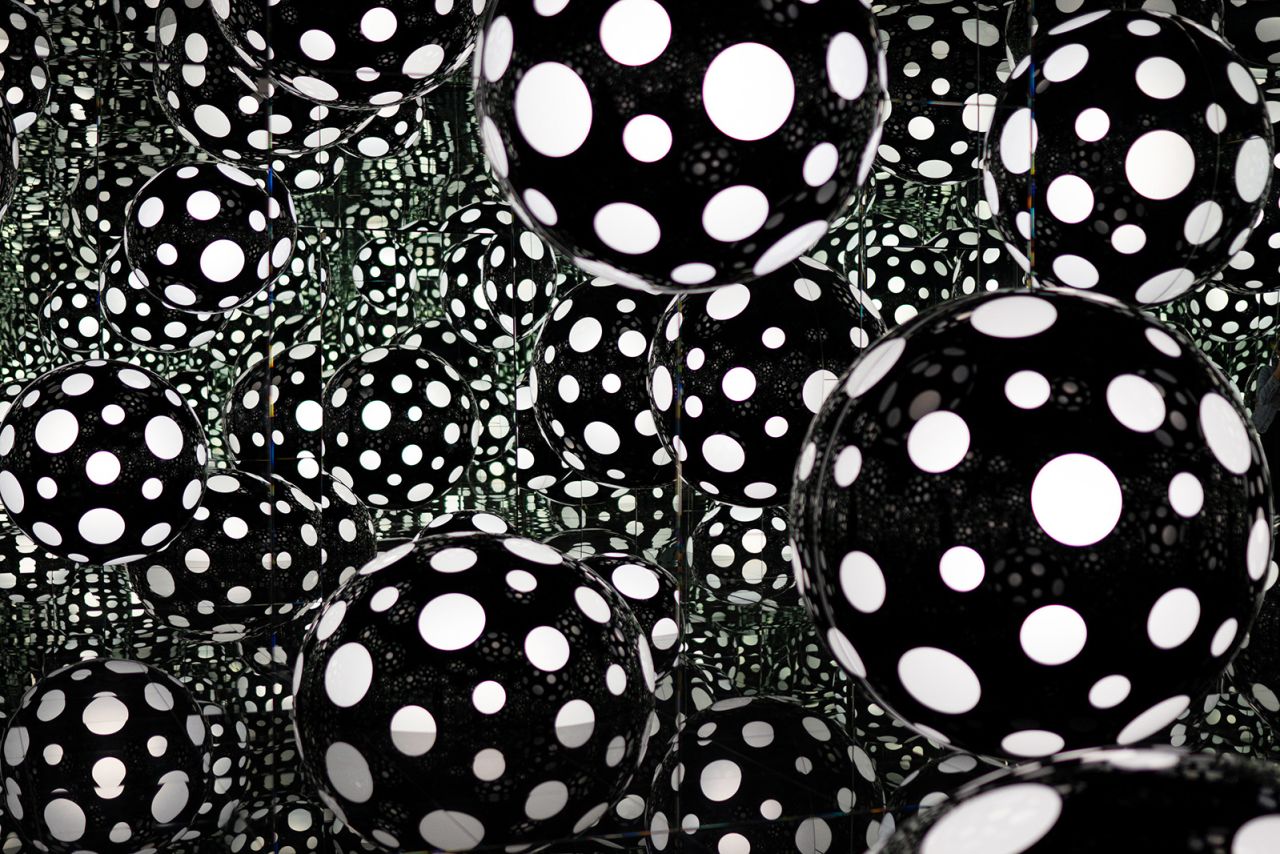 © Noemi Cassanelli/CNN


The Yayoi Kusama exhibition at M+ in Hong Kong is a retrospective showcasing the artist's works from 1945 to the present day. It is the largest retrospective of the artist in Asia outside of Japan. A Japanese artist whose work has had a significant influence on abstract art, Kusama's unique vision and aesthetic have been characterized by her use of vibrant colors, bold patterns, and repetitive motifs. Kusama's work reflects her interest in the concept of infinity, and her artistic style has been referred to as obsessive repetition. The artist's exploration of the relationship between the viewer and an artwork also led to her development of interactive pieces and performance art.This exhibition features over 200 works, including her iconic polka-dot paintings, conceptual furniture design and immersive installations. The show proves Kusama's undeniable impact not only on abstract art, but on popular visual culture.
Liu Kuo-sung: Experimentation as Method at National Gallery Singapore (January 23 - November 26)


Courtesy of the National Gallery Singapore


This retrospective at the National Gallery Singapore display showcases Liu Kuo-sung's creative journey through over 60 paintings and 150 items from his personal archive, emphasizing his pivotal contributions and innovations to the development of contemporary Chinese ink painting. Among the most renowned of contemporary Chinese artists, Liu is especially regarded for his landscape paintings, which often employ abstraction to highlight the organic textures and geometric forms found in our natural world. The show extends beyond his use of a brush, exploring his experimentation with different textures and materials, including his "Liu Kuo-sung paper," a materialization of his pioneering spirit. What makes this exhibition truly special is the opportunity to witness Liu's creative process through his sketches and studies, offering a rare glimpse into the mind of a master ink artist. 
Didier William: Nou Kite Tout Sa Dèyè at MOCA Miami (Miami, November 2, 2022 - April 16 2023)


©
Constance Mensch/Didier William


Didier William's exhibition at MOCA Miami [translation: We've Left That All Behind] is a vivid and thought-provoking exploration of the intersection between history, identity, and cultural memory. Using a range of techniques including painting, sculpture, and mixed media, William creates a vibrant and layered visual language that draws on his Haitian heritage and his experiences of migration and displacement. The exhibition features a series of large-scale paintings that blend figurative and abstract elements, creating a sense of movement and energy that draws viewers into the work. Alongside these compositions, William presents a series of sculptures and mixed media pieces that explore themes of ancestry, transformation, and resilience. Overall, the exhibition is a powerful and engaging experience that invites viewers to consider the complexities of history and identity in new and unexpected ways.
Gerhard Richter: 100 Works for Berlin at the Neue Nationalgalerie (Berlin, April 1 - December 2026)


This exhibition at the Neue Nationalgalerie displays a comprehensive collection of Gerhard Richter's works, spanning over various phases of the artist's career. Richter is considered to be one of the most influential painters of the 20th century, known for his ability to create compositions that blur the lines between photography and painting, abstraction and realism. His work explores themes including memory, politics, and the role of images in contemporary culture. At the heart of this exhibition lies a set of four large abstract paintings, collectively known as Birkenau. The series employs abstraction to obscure images and is placed opposite mirrors to emphasize reflection and depth, an extensive exploration of the Holocaust and his attempt to capture its essence. 
Shirley Jaffe: Form as Experiment at Kunstmuseum Basel (Basel, March 25 - July 30)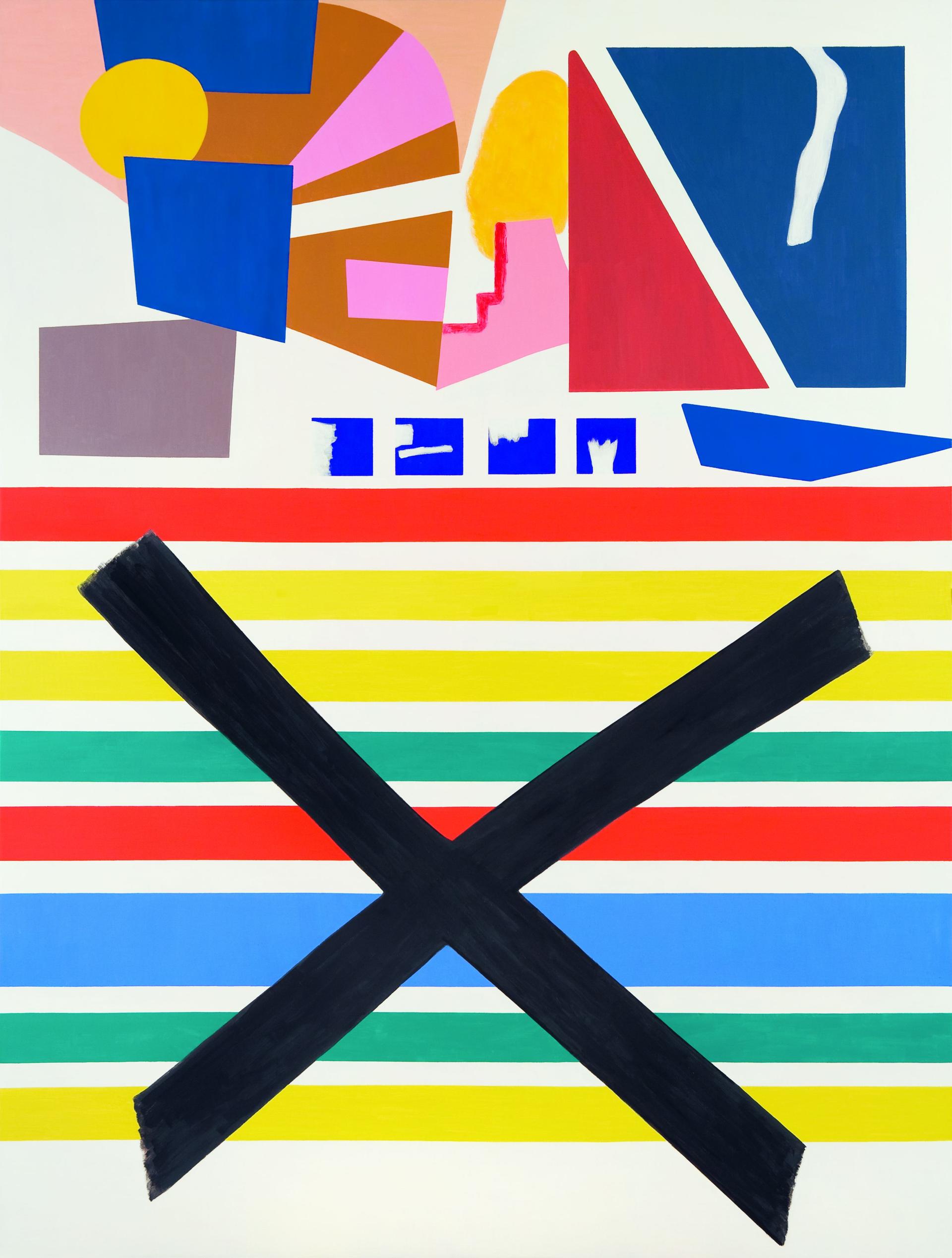 Courtesy of the Kunstmuseum Basel


The Kunstmuseum Basel is showcasing the work of late artist Shirley Jaffe, featuring a selection of her paintings from the 1960s to the 2000s. Jaffe was an American abstract painter known for her colorful and geometric paintings. The artist spent most of her life in France where she established herself as a prominent figure of the post-war generation of abstract artists.Her compositions often feature bold, contrasting colors and dynamic patterns that create a sense of movement and energy on the canvas. In this show, the artist's works are displayed in a range of sizes, from small gouaches to large-scale canvases. Visitors can also expect to see some of her lesser-known pieces, including her early figurative works and later collages. The exhibition offers a comprehensive overview of Jaffe's artistic evolution and showcases her significant contributions to the field of abstract painting.
Hilma af Klint & Piet Mondrian: Forms of Life at the Tate Modern (London, April 20 - September 3)



Courtesy of The Hilma af Klint Foundation/Kunstmuseum Den Haag


This exhibition at the Tate Modern is a stunning display of abstract art from two pioneering artists of the early 20th century. It showcases over 160 works from both artists, highlighting the similarities and differences in their approach to abstraction. Although the two artists never met, they each created their own languages of abstract art that were grounded in nature. At the core of their artistic journeys was a shared aspiration to comprehend the forces that underpin life on Earth. Hilma af Klint, a Swedish artist who worked in seclusion for most of her life, created mystical, spiritual paintings that were ahead of her time. Piet Mondrian, a Dutch artist who was a key figure in the De Stijl movement, created geometric compositions that emphasized the use of primary colors and straight lines. The exhibition provides fascinating insight into the evolution of abstract art and the unique contributions of these two remarkable artists from a new perspective.